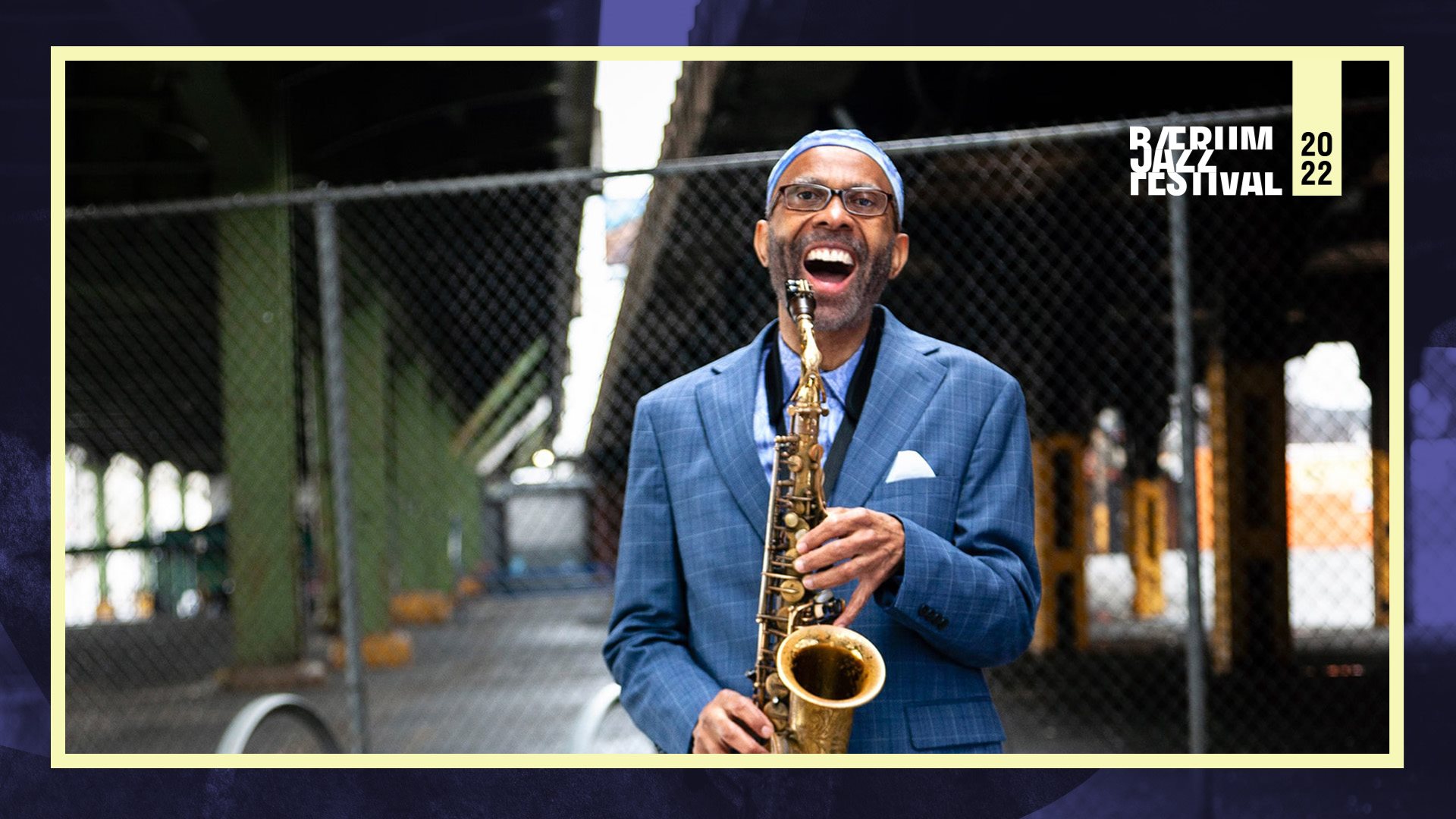 Kenny Garrett And Sounds From The Ancestors
Kenny Garrett headlines the inaugural Bærum Jazzfestival.
Organizer
Bærum Kulturhus
Ever since he appeared in Miles Davis' band in the mid-1980s, saxophonist Kenny Garrett has stood for one thing above all: the pursuit of absolute perfection. This may have stood in the way of his emotionality over certain stretches, but who can just get out of their skin like that? But even Kenny Garrett is getting older. On his new album "Sounds From The Ancestors" (Mack Avenue/in-akustik) he goes further than ever before to distance himself. And lo and behold, he makes audible sides to his personality that we didn't know from him yet.
The sounds of the ancestors have many dimensions with Kenny Garrett. There it goes into historical, cultural, musical and personal areas. The album "Sounds From The Ancestors" is so multi-layered, as if it were a film in which he himself acted as director, screenwriter, cameraman, leading actor and of course soundtrack supplier.
"When I play Coltrane, I don't play Coltrane, I play music."
The Chuco Factor
It's not Garrett's first approach to the ancients. He has already recorded tributes to Miles and Trane, and his "Songbook" is also a nod to the tradition. But the approach to the new album is different. "After all, we recorded this record in 2019, right before the pandemic," the saxophonist deduces. "Before that, we were on tour in the United States for a long time. But I've always thought about these kinds of records. By that I mean records that built me up. First and foremost, I have Marvin Gaye's, What's Going On' in mind. On my album 'Black Hope', I myself first pushed towards that spirit that I was looking for. I think I look for that one element on all my records, but sometimes it reveals itself more and sometimes less. With the new record, I thought very hard about how to relate the sound and spirit of my ancestors: Marvin Gaye, Aretha Franklin and Coltrane`s, A Love Supreme`. I had to go down a new path, and Chucho Valdez, who I've been working with off and on for the last few years, helped me immensely."
Looking for a thing is not the same as already being in the place where you find it, Kenny Garrett says. He has made acquaintances many times in his life that have only led him to the particular place where he found it. The Cuban pianist and Iraqi founder Chucho Valdez was on his quest for the same ideas as Kenny Garrett, only a good deal closer to his goal than his North American colleague. With Valdez's mental support, Garrett this time finds conscious and subconscious connections of musical trace elements that make up his socialization as an artist.
The Trane Factor
In the song "Hargrove," for example, the main motif from "A Love Supreme" suddenly emerges from the background in a completely unexpected way but is placed in a completely unfamiliar context as spiritual background information. "I've played with Roy Hargrove so many times and wanted to try to capture his spirit in the piece," Garrett recaps. "We still call this music modern, but it's not modern at all because it's the spirit from the time it was played. We had similar musical goals, but found different solutions. Today I try to unite our ideas. Coltrane was always present in my music as well as his. In. Hargrove' there is an idea of, A Love Supreme`, but not the piece itself. Rhythmically, it's very different. But I also don't have to play the piece the way Coltrane played it, because it's already there in his version. Nobody can play it like Coltrane, unless Branford Marsalis. Maybe Pharoah Sanders too, but I haven't heard it from him yet. I play the piece as I hear it. It's quite enough to put in an idea of that piece to bring that spirit to life. You just have to sing the phrase 'A Love Supreme` and everyone associates Coltrane."
The way Kenny Garrett incorporates the three words "A Love Supreme" into his song almost sounds like a hip hop sample. He emphasizes that he is at home in many different genres, between which he navigates naturally. That's why he tries not to bend the pieces in a certain direction, but on the contrary, he actually wants to play a hip hop number, and as if by itself, the Coltrane song emerges from it. With which he picks up on a crucial point. Because all too often we confuse an original idea, whether in art or in other social fields, with our memory and thus interpretation of that idea. Garrett deliberately works with the blur of temporal distance. The album takes place in very different eras and their relics memory. These layers reach back from the present to hip hop, funk, post bop and bebop, old-time jazz, and many sources of African and Caribbean folklore. "What we understand as past, present and future is, after all, a matter of interpretation," Garrett philosophizes. "During the pandemic, I was listening to a lot of Louis Armstrong and Sidney Bechet, and suddenly you realize that all of that has a direct connection to the present. My grandchildren have a very different view of the past than I do. All these influences flow together in my music, but when I play my songs, I play them as authentically as I can. When I play Coltrane, I don't play Coltrane, I play music. Music is always music, and I try to play music. Whether I'm listening to Scriabin or Charlie Parker, a C is always a C. I hear the language that connects all these genres, and I feel like with each record I get closer to that ultimate place where all these elements become one."
"What we understand as past, present and future is, after all, a matter of interpretation."
"Miles allowed each musician to tell his own story within his music."
The Miles Factor
This statement is reminiscent of the Ellington quote that there are only two kinds of music, good and bad, and everyone must decide for themselves what that means. Kenny Garrett has imbibed this philosophy with the artistic in our mother's milk, because his first walking attempts on the big stage he made in the Ellington Orchestra. "That's when I had the opportunity to play with Cootie Williams," he enthuses, as if it were yesterday. "I was about 18 at the time, and the old musicians always sat in the front of the bus, and the young ones had to sit in the back. Why, I don't know. But one day I sat in the front of the bus next to Cootie. And he said to me at that time: 'Write your own songs.' I heard the same thing from Miles later: 'Write your own songs. There we go again with the question of interpretation. Sometimes you're not where you want to be artistically. When I started playing Coleman Hawkins' version of 'Body & Soul,' I knew that was a great song because my teachers had told me so. But it wasn't until I wrote my own songs that I realized how great the song really was. By then, I had discovered myself."
Kenny Garrett not only writes his own songs, but he also designs the environment for them. Even before he began concrete work on Sounds From The Ancestors, he had the basic sound in mind. And he had a clear agenda of all the musical influences from which he wanted to create a panorama. Miles Davis was also a master of these panoramic albums. If Garrett's new opus is conceptually close to a Miles album, it's probably "On The Corner." "Miles Davis is in everything I do," Garrett exclaims with the impetus of a slogan. "His influence may not stand out as clearly at times, but the five and a half years I spent playing with him always channel into my music. Miles allowed each musician to tell his own story within his music. So much music culminated in Miles that it's hard to tell what influences he absorbed and who he influenced in turn. The same is true of Art Blakey. He was so steeped in African rhythms that he in turn influenced African drummers like Tony Allen. I learned a lot from Miles about these conscious and unconscious processes in music."
In this respect, a whole series of circles close on "Sounds Of The Ancestors." Kenny Garrett knows very well that the present is the tradition of tomorrow. Whether he, too, will be perceived in the future as a driving force of the present like the ancestors to whom he refers remains to be seen. With his new album, he is at least on a path of purification that no one would have believed him capable of ten years ago.
Price: 0 - 485
Duration: 1 t, 30 min u/pause
Friday 16. September 2022

Kl. 19:00
Kenny Garrett And Sounds From The Ancestors
0 - 485 Kr